Program Exercise Therapy dan Edukasi pada Pasien Post Hip Arthroplasty di Ruang Rawat Inap RS Ortopedi Prof. Dr. R. Soeharso: A Case Report
Keywords:
hip arthroplasty, exercise therapy, edukasi
Abstract
Berjalan merupakan aktifitas sehari-hari yang dilakukan oleh manusia. Proses berjalan merupakan kombinasi dari kekuatan otot, gaya berat dan kekuatan momentum khususnya pada tungkai. Salah satu sendi penting yang bergerak serta menopang berat badan saat berjalan adalah sendi hip/panggul. Bagian ini merupakan penghubung antara bagian axial tubuh dengan ekstremitas bawah. Dalam menjalankan fungsinya, sendi hip seringkali mengalami beberapa masalah baik yang bersifat degeneratif maupun non-degeneratif misalnya fracture dan hip osteoarthritis. Pada tahap lanjut tindakan yang dilakukan berupa operasi penggantian sendi hip dengan arthroplasty. Hip arthroplasty merupakan sebuah prosedur bedah penggantian sendi (joint replacement) pada sendi panggul yang mengalami destruksi. Pasien post hip arthroplasty akan mengalami beberapa perubahan dalam melakukan aktifitas fungsional dan rutinitasnya dalam sehari-harinya. Dalam hal terjadi perubahan fungsi sendi dan otot serta ligamen karena kekuatan yang menurun serta adanya rasa nyeri paska operasi.  Keterbatasan gerak yang akan terjadi setelah operasi arthroplasty menjadi pekerjaan besar yang harus diselesaikan agar tidak mengakibatkan kecacatan. Kecacatan ini akan mengganggu fungsional dan gaya berjalan pada individu tersebut. Case report ini disusun untuk melihat sejauh mana perbaikan yang terjadi pada pasien dengan kondisi post hip arthroplasty. Tindakan yang diberikan berupa program exercise therapy sejak awal paska operasi dan edukasi untuk mendukung program. Program exercise baik latihan di bed maupun latihan berdiri, berjalan menggunakan alat bantu hingga pada kondisi rawat jalan. Pengukuran yang dilakukan menggunakan VAS dan HHS untuk melihat perkembangan subjek. Hasil dari tindakan cepat ini didapatkan pasien mengalami penurunan keluhan serta perbaikan pada kemampuan fungsional post hip arthroplasty.
References
Al Otaibi, M. L., Waliullah, S., & Kumar, V. (2021). Total Hip Replacement in Sickle Cell Disease Patients with Avascular Necrosis of Head of Femur: A Retrospective Observational Study. Indian Journal of Orthopaedics, 55(5): 1225–1231. DOI: 10.1007/s43465-021-00394-6
Bawono, S., Maryanto, I., & Idulhaq, M. (2018). Skor Fungsional Hip (Harris Hip Score) pada Pasien Osteoarthritis (OA) Hip Joint dengan Defek Acetabulum yang Dilakukan Total Hip Arthroplasty (THR) dan Acetabuloplasty. Biomedika, 10(2): 89-93. DOI: https://doi.org/10.23917/biomedika.v10i2.7018
Fredericks, S., Guruge, S., Sidani, S., & Wan, T. (2010). Postoperative Patient Education: A Systematic Review. Clinical Nursing Research, 19(2): 144-64. DOI: https://doi.org/10.1177/1054773810365994
Kisner, C., Colby, L. A., & Borstad, J. (2018). Therapeutic E xercise: foundations and techniques 7th Edition. Philadelphia: F.A. Davis Company.
Kwon, O.-Y., Jung, D.-Y., Kim, Y., Cho, S.-H., & Yi, C.-H. (2003). Effects of Ankle Exercise Combined with Deep Breathing on Blood Flow Velocity in the Femoral Vein. The Australian Journal of Physiotherapy, 49(4): 253-258. DOI: 10.1016/s0004-9514(14)60141-0
Lippert, L. S. (2011). Clinical Kinesiology and Anatomy 5th Edition. Philadelphia: F. A. Davis Company.
Madara, K. C., Marmon, A., Aljehani, M., Hunter-Giordano, A., Zeni, J. Jr., & Raisis, L. (2019). Progressive Rehabilitation After Total Hip Arthroplasty: a Pilot dan Feasible Study. International Journal of Sports Physical Therapy, 14(4): 564-581. PMCID: PMC6670053
Pivec, R., Johnson, A. J., Mears, S. C., & Mont, M. A. (2012). Hip Arthroplasty. The Lancet, 380(9855): 1768-1777. DOI: https://doi.org/10.1016/S0140-6736(12)60607-2
Princeton, U. (2011). Pelvic Stabilization. Athletic Medicine.
Pristianto, A., Wijianto, & Rahman, F. (2018). Terapi latihan Dasar. Surakarta: Muhammadiyah University Press.
Schache, M. B., McClelland, J. A., & Webster, K. E. (2016). Does the Addition of Hip Strengthening Exercises Improve Outcomes Following Total Knee Arthroplasty? A Study Protocol for a Randomized Trial. BioMed Central musculoskeletal disorders, 17(259): 1-12. DOI: https://doi.org/10.1186/s12891-016-1104-x
Solomon, L., Warwick, D., & Nayagam, S. (2010). Apley's System of Orthopaedics and Fractures 9th Edition. London: Hodder Education.
Sung, Y-T. & Wu, J-S. (2018). The Visual Analogue Scale for Rating, Ranking and Paired-Comparison (VAS-RRP): A new technique for psychological measurement. Behavior Research Methods, 50: 1694–1715. DOI: https://doi.org/10.3758/s13428-018-1041-8
World Physiotherapy. (2020). Description of physical therapy: Policy statement.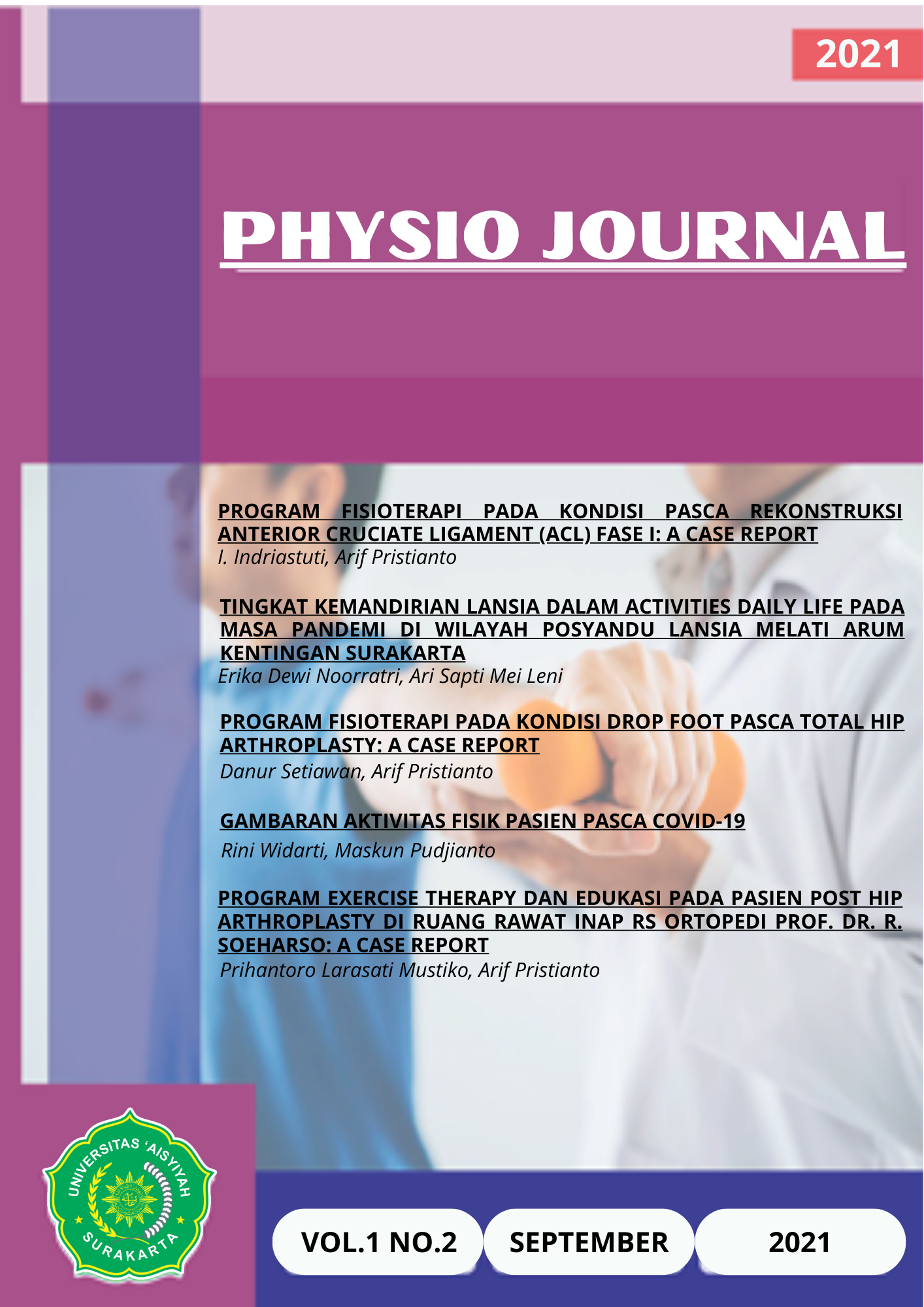 Downloads
License

This work is licensed under a Creative Commons Attribution-ShareAlike 4.0 International License.