PENGARUH PEMBERIAN AQUATIC EXERCISE TERHADAP PENURUNAN NYERI PADA PENDERITA LOW BACK PAIN DI RST Dr. SOEDJONO MAGELANG
Keywords:
Low Back Pain Myogenic, Aquatic Exercise, Visual Analog Scale
Abstract
Sakit pinggang atau LBP termasuk salah satu penyakit muskuloskeletal yang paling banyak, sekitar 40% penduduk  Jawa Tengah berusia antara 65 tahun pernah menderita nyeri punggung. Penyakit ini menyebabkan disabilitas dan kerugian materi. Penanganan LBP yang paling efektif masih menjadi pembahasan para praktisi kesehatan danilmuwan antara Aquatic Exercise. Terapi aquatic mengacu pada perawatan berbasis air atau latihan dengan maksud terapeutik, khususnya untuk relaksasi, kebugaran, dan rehabilitasi fisik. Sifat fisis yang dimiliki air seperti: daya apung, tekanan hidrostatik, viskositas, dan teganan permukaaan memiliki efek langsung pada tubuh. Tujuan : Membuktikan bahwa latihan aquatic exercise dapat menurunkan nyeri pada low back pain dalam 3 minggu latihan. Metode : Penelitian ini adalah experimental dengan pendekatan quasi experimental dengan desain penelitian one grup pretest and posttest design dilaksanakan di RST Dr. Soedjono Magelang. Dengan menggunakan teknik simple random sampling, dan dengan jumlah 15 orang sample. Alat ukur yang digunakan dalam penelitian ini adalah Visual Analog Scale. Hasil : Uji pengaruh yang digunakan dalam penelitian ini adalah Marginal Homogenity. Hasil uji pengaruh menunjukan nilai p= 0,000, sehingga terdapat pengaruh yang signifikan p < 0,005. Kesimpulan:  Ada pengaruh aquatic exercise untuk  menurunkan nyeri pada low back pain myogenic secara signifikan.
References
Bimoariotejo. 2009. Low Back Pain. https://www.backpainforum.com. 2 Februari 2018.
Cael, C. 2010. Functional Anatomy, Lippincoot Williams & Willkins. Philadelphia. http://www.ncbi.nlm.gov/pubmed. 10 Februari 2018.
Dundar, U., Solak, O., Yigit, I., Evcik, D., dan Kavuncu, V. 2009. The effect Of aquatic exercise on body compositionand nonspecific low back pain in elderly males. Jurnal SPINE 34 (14).
Han, G., Cho, M., Moon, T., Kim, J., Kim, S., Hong, S., dan Cho, B. 2011. The Effect Muscle Strenght and Visual Analog Scale Pain of Aquatic Therapy for individuals with Low Back Pain. Journal Phsycaltherapy Sci 23 (01).
Irandoust, K., dan Taheri, M. 2015. The Effects of Aquatic Exercise on Body Composition and Nonspesifik Low Back Pain in Elderly Males. Journal Phsycaltherapy Sci 27 (02).
Kisner, C., dan Colby, L. 2017. Terapi Latihan Dasar dan Teknik. Editor Nur Asiyah. Edisi 6. EGC. Jakarta.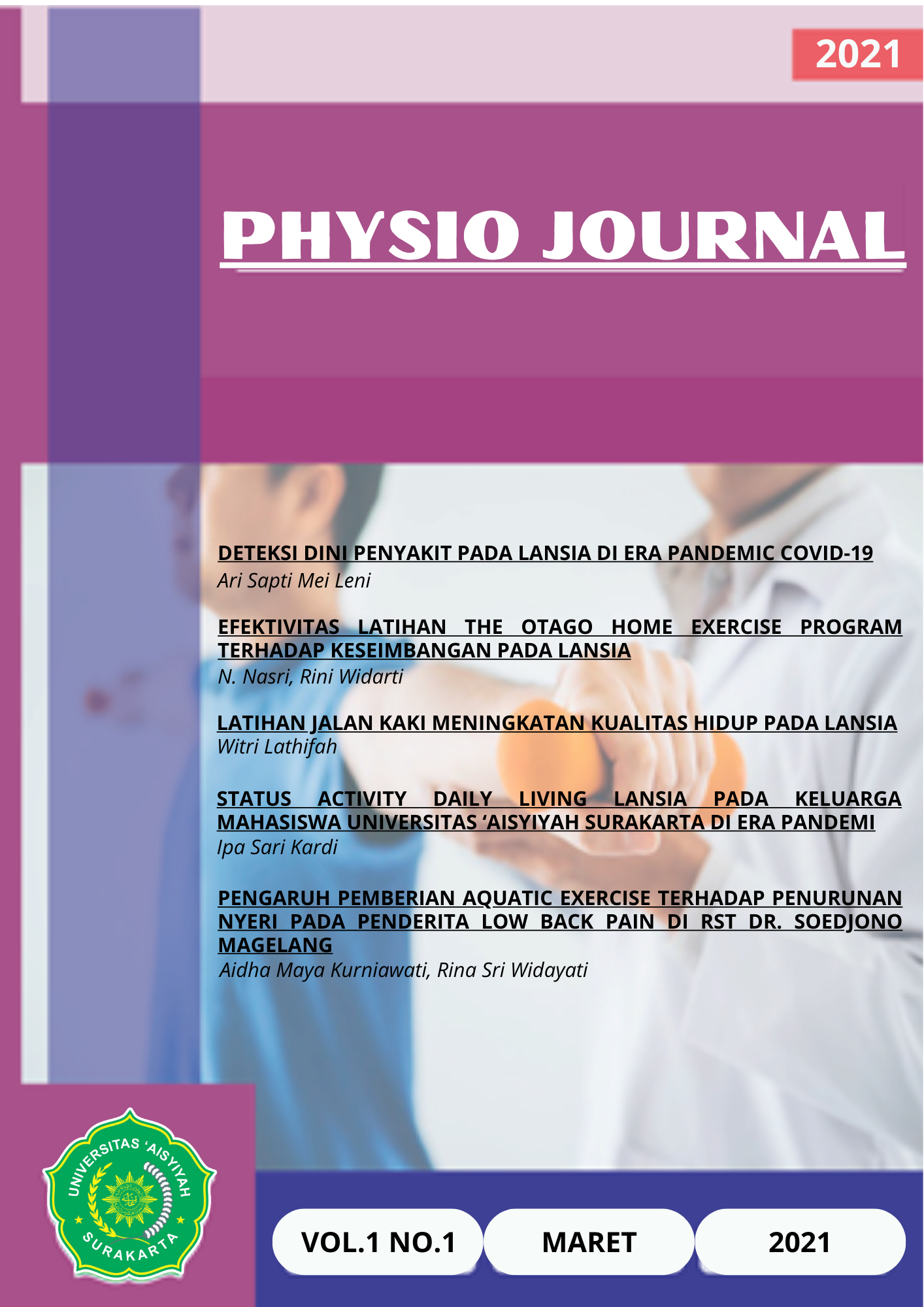 Downloads
License

This work is licensed under a Creative Commons Attribution-ShareAlike 4.0 International License.