RELATIONSHIP BETWEEN WORKLOAD PERCEPTION WITH NURSE BURNOUT LEVEL IN PKU MUHAMAMDIAH HOSPITAL SRAGEN DURING THE COVID-19 PANDEMIC
Keywords:
Perception of Workload, Burnout, Nurse
Abstract
Background: During the COVID-19 pandemic, nurses were faced with an increasingly heavy workload, where the number of confirmed patients increased, the number of nurses on duty was confirmed positive and the use of complete personal protective equipment. The heavier workload is one of the trigger factors for burnout. Objective: to determine the relationship between perceived workload and nurse burnout level at PKU Muhamamdiyah Hospital Sragen during the covid 19 pandemic. Methods: the research method is a quantitative cross-sectional approach with sampling techniques using a total sample and getting a total sample of 47 respondents. The instrument used to measure perceived workload was using the NASA TLX Questionnaire and nurse burnout was measured using the Maslach Burnout Inventory-Human Services (MBI-HS) Scale. Results: statistical analysis test using Spearman rank with a significance level of 95%, obtained p value = 0.035 or (p <0.05), so it was found that there was a relationship between perceived workload and nurse burnout level at PKU Muhamamdiyah Hospital Sragen during the covid 19 pandemic. Conclusion: Nurses with a heavy burden will trigger burnout syndrome. Suggestion: conduct further research on interventions to nurses who have high burnout rates.
References
REFERENCES
Agusti, C. P., Riauwanto, S., & Chasanah, U. (2019). Pengaruh Persepsi Beban Kerja, Stres Kerja, Dan Lingkungan Kerja Terhadap Kinerja Karyawan Bpjs Ketenagakerjaan Kantor Cabang Madiun (Doctoral dissertation, STIE Widya Wiwaha).
Ardhanti, R. V. D. (2017). Hubungan antara persepsi perhadap beban kerja denganburnout syndrome pada perawat. Naskah Publikasi.
Bemana, F., Shokrpour, N., & Seif, M.H. (2013). The relationship between antecedents (job stressors) and burnout in iranian nurses. International Journal of Academic Research in Business and Social Sciences, 3, 550-558.
Handayani D, Et.Al. 2020. Penyakit Virus Corona 2019. Jurnal Respirologi Indonesia. Vol 40. No. 2, April 2020. Perhimpunan Dokter Paru Indonesia
Harninda, H. (2015). Hubungan Efikasi Diri dan Dukunngan Burnout pada Perawat.Jurnal Vol 4 No 01, hal 31-34. Psikologi Indonesia. Jakarta: Universitas Merdeka Surabaya
Kementerian Kesehatan Indonesia. 2022. Https://Infeksiemerging.Kemkes.Go.Id/ Diakses Tanggal 28 Februari 2022
Norawati, S., Yusup, Y., Yunita, A., & Husein, H. (2021). Analisis Lingkungan Kerja Dan Beban Kerja Dan Pengaruhnya Terhadap Kinerja Pegawai Bapenda Kabupaten Kampar. Menara Ilmu, 15(1), 95-106.
Pertiwi, P. K., & Mulyana, O. P.(2019). Perbedaan Komitmen Organisasi Ditinjau dari Jenis Kelamin dan Status Pernikahan Pada perawat Rumah Sakit "x†Gresik. Character. Jurnal Penelitian Psikologi., 6(4).
Praditya, Y. (2019). Hubungan Antara Burnout Dan Depresi Pada Karyawan.
Skripsi Sarjana Psikologi Universitas Katolik Soegijapranata Semarang
Prihantoro, S. (2014). Kecenderungan Burnout Pada Perawat di tinjau dari Jenis Kelamin dan Usia Dewasa di Rumah Sakit Islam Surakarta (Doctoral dissertation, Universitas Muhammadiyah Surakarta). Priyatmoko B, Meliala A, R Kusumaratna (2020) Burnout Pada Masa Pandemi Covid-19 Di Rs Xyz. Tesis Magister Ilmu Kesehatan. Universitas Gajah Mada.
Rizky N & Suhariadi F, 2021. Pengaruh Workload Dan Social Support Terhadap Burnout Pada Tenaga Kesehatan Di Masa Pandemi COVID-19. Buletin Riset Psikologi Dan Kesehatan Mental Http://E-Journal.Unair.Ac.Id/Index.Php/BRPKM E-ISSN: 2776-1851
Rosyanti, L. dan Hadi, I. (2020) "Dampak Psikologis dalam Memberikan Perawatan dan Layanan Kesehatan Pasien COVID-19 pada Tenaga Profesional Kesehatanâ€, Health Information : Jurnal Penelitian, 12(1), hlm. 107–130. doi: 10.36990/hijp.vi.191
Rupang E & Derang I. 2021. Burnout Perawat Pelaksana Di Ruang Isolasi COVID-19. Jurnal Perawat Indonesia, Volume 5 No 2, Hal 712-723, Agustus 2021, e-ISSN2 548-7051.
Sari, I. K. (2015). Faktor-Faktor yang Berhubungan dengan Burnout Perawat di RSUD Haji Makassar (Doctoral dissertation, Universitas Islam Negeri Alaudin Makassar).
Shoja, E., Dkk. (2020). COVID-19 Effects On The Workload And Mental Health Of Iranian Healthcare Workers. BMC Public Health, 1–16.
Simamora, R. H. (2019). Pengaruh Penyuluhan Identifikasi Pasien dengan Menggunakan Media Audiovisual terhadap Pengetahuan Pasien Rawat Inap. Jurnal Keperawatan Silampari, 3(1), 342-351.
Tirta Putra A, dkk. 2017. Persepsi Terhadap Beban Kerja Dengan Turnover Intention Pada Karyawan, Jurnal Psikologi, Vol 13, No. 2, 81-91.
Triwijayanti, R., Dwiantoro, L., & Warsito, B. E. (2016). Analisis karakteristik individu terhadap kejenuhan perawat. Journal of Nursing and Health, 1(1), 32-38.
Wibowo B Dkk, 2020. Petunjuk Teknis Alat Pelindung Diri (AP) Dalam Menghadapi Wabah Covid 19. Kementerian Republik Indonesia, Jakarta : 2020
Widiastuti, Y. (2018). Persepsi Beban Kerja dengan Tingkat Stres Perawat Ruang Operasi di RSUP Dr. Kariadi Semarang (Doctoral dissertation, Universitas Muhammadiyah Semarang).
Yani, S. (2020). Hubungan Masa Kerja Perawat Dengan Upaya Minimalisasi Stressor Hospitalisasi pada Anak. Jurnal Riset Medika Keperawatan, 3(2)1-6.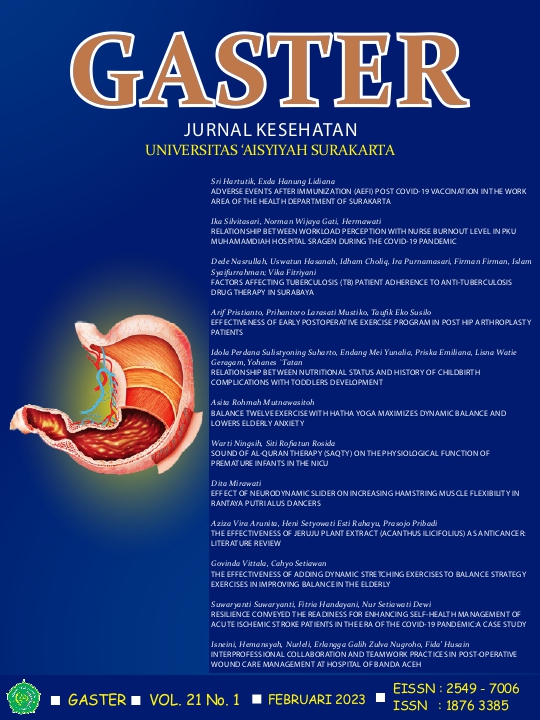 Downloads
License
Copyright (c) 2023 Gaster
This work is licensed under a Creative Commons Attribution-ShareAlike 4.0 International License.

This work is licensed under a Creative Commons Attribution-ShareAlike 4.0 International License.