Status Activity Daily Living Lansia pada Keluarga Mahasiswa Universitas 'Aisyiyah Surakarta di Era Pandemi
Keywords:
ADL, lansia, pandemi
Abstract
Peningkatan usia harapan hidup beriringan dengan meningkatnya jumlah lansia merupakan salah satu tantangan untuk tetap menjaga kemandirian lansia dalam melakukan aktivitas sehari-hari dan melanjutkan hidup aktif. Era pandemic yang dialami saat ini, perhatian seyogyanya ditingkatkan untuk kesehatan lansia, oleh karena itu pengukuran derajat kesehatan dan penilaian kemandirian lansia, sehingga dapat diberikan tindakan sesuai dengan masalah yang dialami. Tujuan penelitian ini yaitu untuk menilai status activity daily living (ADL) lansia pada keluarga mahasiswa Diploma IV Fisioterapi Fakultas Ilmu Kesehatan Universitas 'Aisyiyah Surakarta. Penelitian ini menggunakan metode deskriptif analitik yaitu menggambarkan status activity daily living lansia menggunakan index barthel yang terdiri atas dua bagian yaitu fungsi perawatan diri dan fungsi kerumahtanggan. Teknik pengambilan sampel menggunakan purposive sampling yaitu lansia pada keluarga mahasiswa semester VI yang memenuhi kriteria inklusi berusia >60 tahun dan dapat berkomunikasi dengan baik. Hasil penelitian mengungkapkan bahwa status ADL fungsi perawatan diri lansia dominan mengalami ketergantungan ringan (62.5%), mandiri (21.9%), ketergantungan berat (9.4%), ketergantungan sedang dan ketergantungan total masing-masing (3.1%). Sedangkan status ADL fungsi kerumahtanggaan lansia dominan mengalami ketergantungan ringan (34,4%), ketergantungan sedang (31.3%), ketergantungan berat (18.8%), mandiri (12.5%) dan ketergantungan total (3.1%). Berdasarkan hasil penelitian dapat disimpulkan bahwa status ADL lansia dominan mengalami ketergantungan ringan.
References
Abbasian, M. Ghalichi, F., Ahmadi, B.,
Ghasemzadeh, P., Esmaeilpour, E., &
Hossein, M. (2016). Status of Daily
Living Activities among Older People
in Maku. Elderly Health Journal 2016;
(2): 73-77. http://ehj.ssu.ac.ir
Age UK. (2019). Later Life in the United
Kingdom 2019. Diakses dari
https://www.ageuk.org.uk/ourimpact/policy-research/policypositions/
Akbar, R. R., Pitra, D. A. H., Anissa, M., &
Debie, A. (2020). Hubungan Tingkat
Kemandirian dan Gangguan Kognitif
pada Lansia. Jurnal Human Care Vol.
No.3. diakses dari
https://ojs.fdk.ac.id/index.php/humanc
are/article/view/814
Alshamall, M. H., Makhlouf, M. M., Rady, M.,
Sellm, N. A. A., & Ismall, M. F. S.
(2019). Quality of Life and its
predictors among Qatari Elderly
Attending Primary Health Care
Centers in Qatar. World Family
Medicine Journal Of Family Medicine
Volume 17, issue 6. DOI:
5742MEWFM.2019.93654. Dari
http://www.mejfm.com/June%202019/
June%202019%20WFM.pdf
Anandaraj, R., Prakash, M., & Vasudevan, K.
(2018). Prevalence of disability in
activities of daily living among elderly
in a rural community of Puducherry.
International Journal of Commuinity
Medicine and Public Health.
http://dx.doi.org/10.18203/2394-
ijcmph20183983
Aria, R., Ukhsan, & Nurlaily. (2019).
Kemandirian Lanjut Usia dalam
Aktifitas Sehari-Hari di Wilayah Kerja
Puskesmas Nusa Indah Bengkulu.
Jurnal Vokasi Keperawatan Vol.2
No.1 (2019). Diakses dari
https://ejournal.unib.ac.id/index.php/Ju
rnalVokasiKeperawatan/article/view/1
Gaetner, B. Busch, M. A., Nave, C. S., &
Fuchs, J. (2019). Limitations in
activities of daily living in old age in
Germany and the EU – Results from
the European Health Interview Survey
(EHIS) 2. Journal of Health
Monitoring. DOI 10.25646/6226.2.
https://edoc.rki.de/handle/176904/6247
.2
Hakim, L. N. (2020). Pelindungan Lanjut Usia
pada Masa Pandemi Covid-19. Info
Singkat. http://puslit.dpr.go.id
Herman, R., & Akhriani, H. N. (2018).
Determinants Activity of Daily Living
(ADL) Elderly Tresna Werdha
Nursing Home (PSTW) Special
Region of Yogyakarta. Jurnal of
Ultimate Public Health vol.2 (1) 2018.
https://doi.org/10.22236/jumphealth.v2i1.p81-92
Kardi, I. S., Widayati, R. S., & Wahyuni.
(2019). Pengendalian Tekanan Darah
Tinggi Masyarakat RW 12 Jebres
Melalui Senam Aerobik. Jurnal
Gemassika Vol.3 No.1
https://jurnal.aiskauniversity.ac.id/index.php/gemassika/a
rticle/view/379/218
Kardi, I. S., Widarti, R., Nasri. (2020).
Penerapan Senam Lansia untuk
Mengontrol Kadar Kolesterol Di
Posyandu Marsudi Waras RW 12 Kota
Surakarta. Proceeding of the 11th
URECOL; Pengabdian Masyarakat
http://repository.urecol.org/index.php/
proceeding/article/view/898
Kemenkes. (2013). Buletin Jendela Data dan
Informasi Kesehatan (Topik Utama
Gambaran Kesehatan Lanjut usia di
Indonesia). Jakarta: Kementerian
Kesehatan RI.
Maylasari, I. et al. (2019). Statistik Penduduk
Lanjut Usia 2019. Jakarta: Badan
Pusat Statistik.
National Council of Social Service (NCSS).
(2017). Understanding the Quality of
Life of Seniors. Diakses dari
https://www.ncss.gov.sg/PressRoom/Publications
NHS Digital. (2017). Health and Care of
People with Learning Disabilities
Experimental Statistics: 2016 to 2017.
https://files.digital.nhs.uk/pdf/b/d/healt
h_and_care_of_people_with_learning_
disabilities_2016_to_2017_prerelease_
access_list.pdf
Pashdarfard, M., & Azad, A. (2019).
Assessment tools to evaluate Activities
of Daily Living (ADL) and
Instrumental Activities of Daily Living
(IADL) in older adults: A systematic
review. Medical Journal of the Islamic
Republic of Iran (MJIRI).
https://doi.org/10.34171/mjiri.34.33.
Putthinoi, S., Lersilp, S., & Chakpitak, N.
(2016). Performance in Daily Living
Activities of the Elderly while Living
at Home or Being Home-bound in a
Thai Suburban Community. Procedia
Environmental Sciences 36 ( 2016 )
https://www.researchgate.net/publicati
on/308209452
Rohaedi, S., Putri, S. T., & Karimah, A. D.
(2016). Tingkat Kemandirian Lansia
dalam Activities Daily Living di Panti
Sosial Tresna Werdha Senja Rawi.
Jurnal Pendidikan Keperawatan
Indonesia Vol.2 no. 1. Juli 2016.
http://ejournal.upi.edu/index.php/JPKI
Storeng, S. H., Sund, E. R., & Krokstad, S.
(2018). Factors associated with basic
and instrumental activities of daily
living in elderly participants of a
populationbased survey: the NordTrøndelag Health Study, Norway. BMJ
Open.http://dx.doi.org/10.1136/bmjope
n-2017-018942.
Sozanska, A. C., Szurlej, A. W., Pietruszynska,
A. W., & Sozanski, B. (2019).
Determinants of ADL and IADL
disability in older adults in
southeastern Poland. BMC Geriatrics
https://doi.org/10.1186/s12877-019-
-4.
Xu, R., Zhou, X., Cao, S., Huang, B., Wu, C.,
Zhou, X., & Lu, Y. (2019). Health
Status of the Elderly and Its Influence
on Their Activities of Daily Living in
Shangrao, Jiangxi Province.
International Journal of
Environmental Research and Public
Health. DOI:10.3390/ijerph16101771.
www.mdpi.com/journal/ijerph
World health Organization (WHO). (2014).
Global Health Observatory (GHO)
data.https://www.who.int/gho/publicat
ions/world_health_statistics/2014/en/
World Health Organization (WHO). (2018).
Deafness and hearing loss.
http://www.who.int/mediacentre/factsh
eets/fs300/en/
Windiyaningsih, C., & Apriyan, N. (2019).
Activity Daily Living Related With
Dementia At Elderly In Sukabumi Sub
Urban Area, West Java, Indonesia
Year 2019. 1st International Respati
Health Conference (IRHC) Juli 2019.
http://prosiding.respati.ac.id/index.php
/PIC/article/view/104
Wittenberg, R., Hu, B., & Hancock, R. (2018).
Projections of Demand and
Expenditure on Adult Social Care
to 2040. Personal Socoal
Services Research Unit (PSSRU).
https://pssru.ac.uk.publications/pub5421/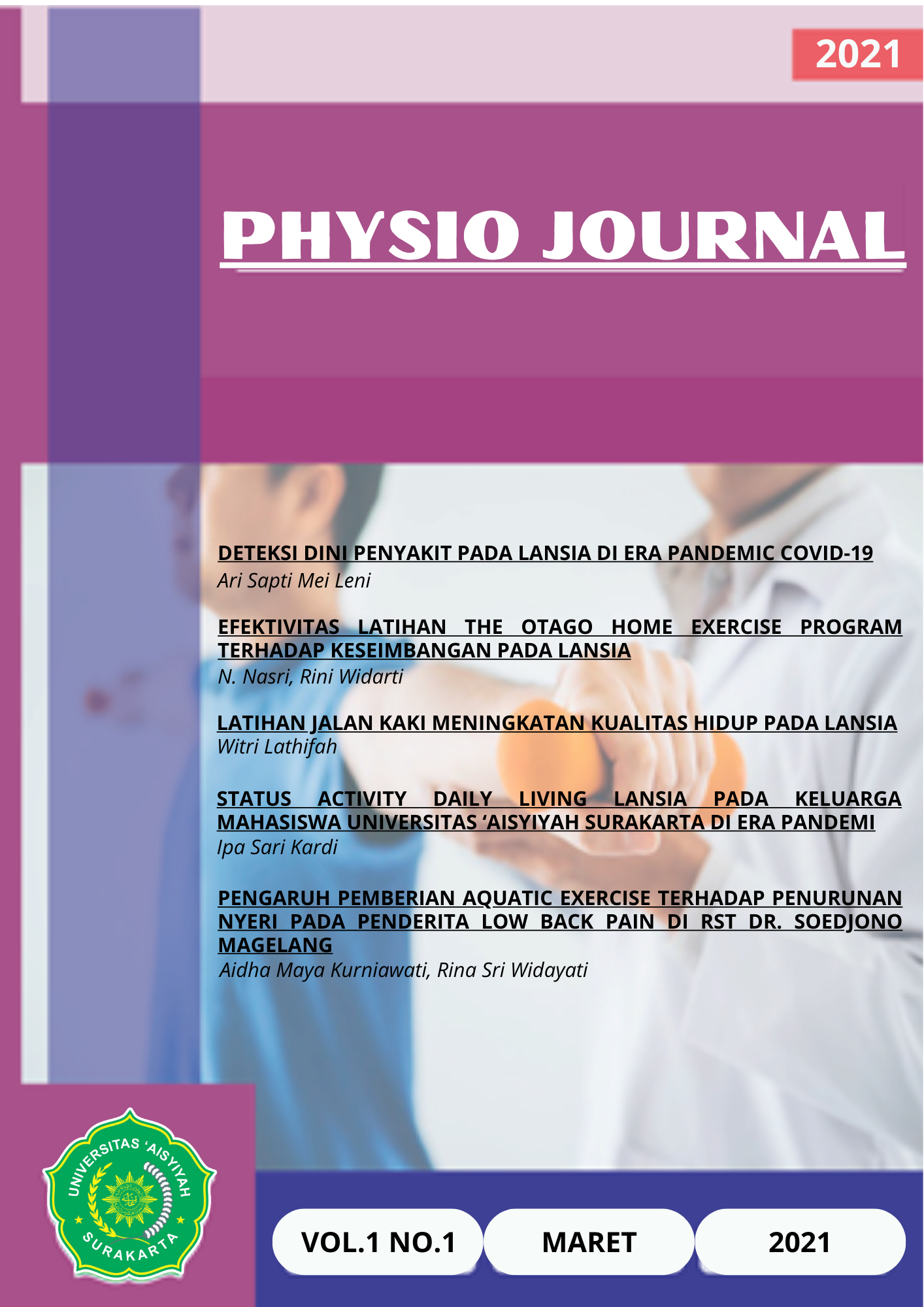 Downloads
License

This work is licensed under a Creative Commons Attribution-ShareAlike 4.0 International License.